THE DISAB HIGH FLOW VACUUM TANKER
This is a versatile piece of equipment and a valuable addition to our services. This machine is able to vacuum recover a varied range of wet or dry products.  The Disab has a high volume suction capacity and the telescopic flexible boom system allows collection of products from a vertical silo, Tanker storage vessels or distance ground vacuums approx 110 meters depending on product.
Dry products such as
Powder from fine to granular.
APCR (ash).
Biomass products.
Animal Feeds.
Various aggregates.
Wet products such as:
Slurries.
Sludge.
Sediments.
Most types of Filter Cake.
OPTIONS OF PRODUCT DISPOSAL
Once the product is collected we can offer various options for removal. We can tip onto designated floor areas or using the high tip system fitted to the machine we can tip into mobile skips for ease of removal. We can also blow products collected into a vessel i.e. silo or tank at location. With suitable powder products, we can supply a high cube Powder Tanker to site which blows the powder into the tanker, for disposal to a location of your choice. This is the most cost effective and environmentally friendly way of removing and transporting bulk powders.
The High Tip system also offers an option for most types of dry products which have been vacuum collected. We can then transfer the product from the Disab direct to Bags for ease of removal from site with no environmental issues. 
If products can not be bagged directly by our Disab High Tip System, we have a mobile bagging plant (pictured below) that can be deployed direct to your site. This piece of equipment can bag both dry and wet products.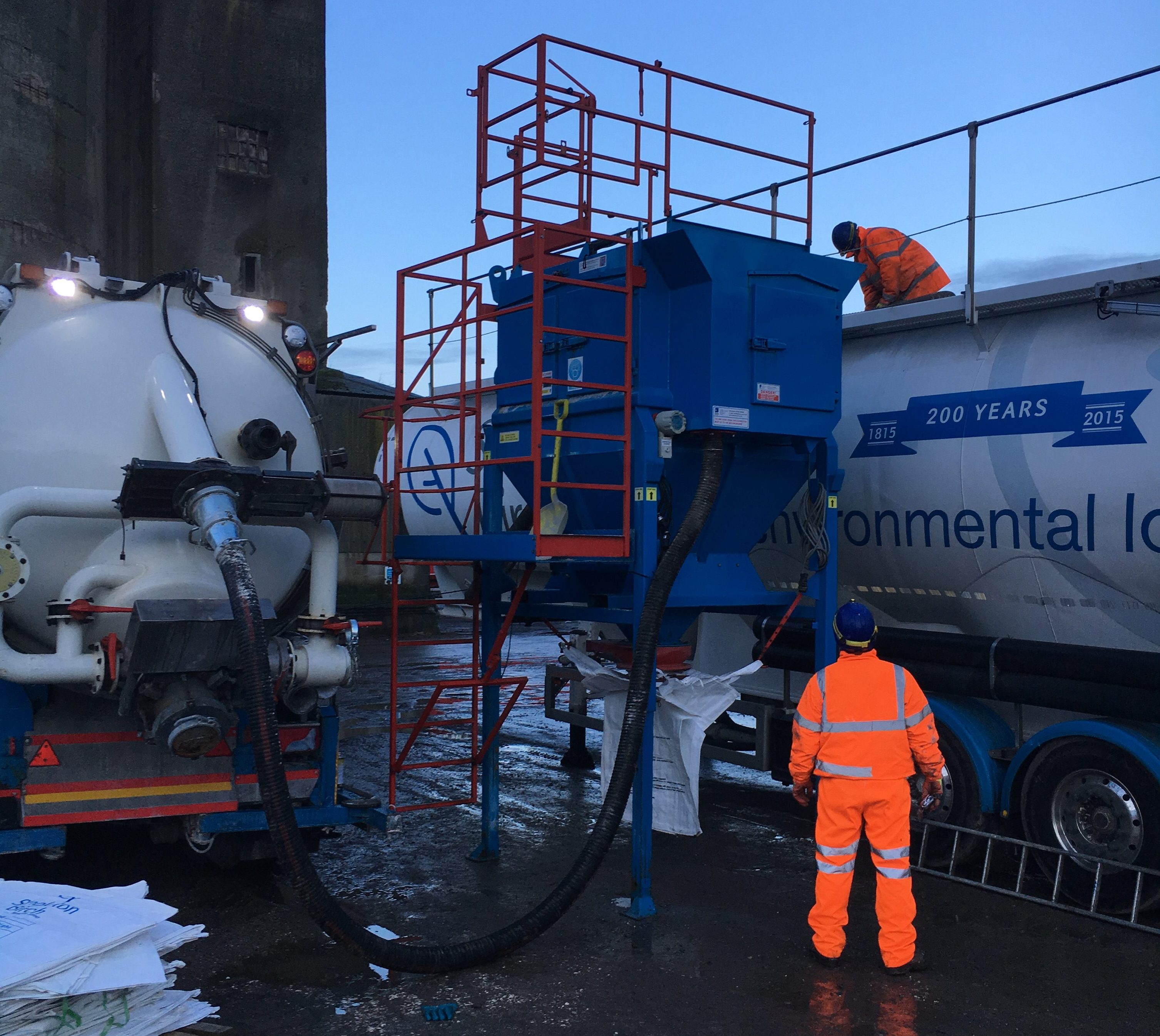 THE FELDBINDER 40 CUBE SUCK AND BLOW POWDER TANKER
This Tanker is designed for smaller low level powder spill collection, the benefit with this Tanker is once the spill is collected the product can be blown back into a silo or transported away from site for disposal at a location of the customer's choice. Our company policy is that before any work can be carried out at a customer's location, a site assessment will be carried out by a member of our Vac Team. This is to assess your requirements so we can set out a Safe Working Plan and achieve a cost effective environmental solution for you. All our Vac team have been fully trained with the Disab operations, and hold ECITB Approved Course in Confined Space Working Level 2 Medium Risk, and Working at Heights.